The printed paper is made using renewable resources. Trees will be replanted in areas where they were harvested and also in areas where they are not currently growing. We at Shree Varudi have been associated with the printing paper industry for a long time and have been one of the leading manufacturers and suppliers of printed papers.
Our printed papers can be recovered, reused, and recycled. The systems, which are placed for covering such processes, are now widely available and have become efficient and sophisticated over many years.
The paper we use in printing is made from over 60% of biofuel. Then the paper mills will use what is left over from the said manufacturing process to generate bioenergy on-site. It helps in decreasing the overall carbon footprint of paper items and decreases dependency on coal and other fossil fuels.
So, next time you are looking for the best printing paper from a reliable manufacturing house or paper mill, Shree Varudi is the name that will come to your mind. Contact us at +91 94848 22222 or email us at sales@shreevarudi.com, and we will hand you over the options we have been working on lately with.
Leading Printing Paper industry in India: Shree Varudi Paper Mill
Shree Varudi is one of the noted names all across the paper industry, where we have introduced some of the best Kraft and printed papers to start our business with. Thanks to our team of well-trained manufacturers and exporters, we have been able to spread joy not just in India but on a global platform.
From us, you will receive the high BF paper and the low GSM Kraft papers to give them a try. Even our printed papers are available in different-sized rolls, just to match the flexible needs of our customers. So, whenever you are looking for premium-quality printed paper, make sure to keep our number handy and give us a call!
Types of Printing papers
Before you proceed further in this field of papermaking, we would like you to gain some information on the types of printing papers available these days. Listed below, are some of the most promising choices made by commercial arenas.
• Laser paper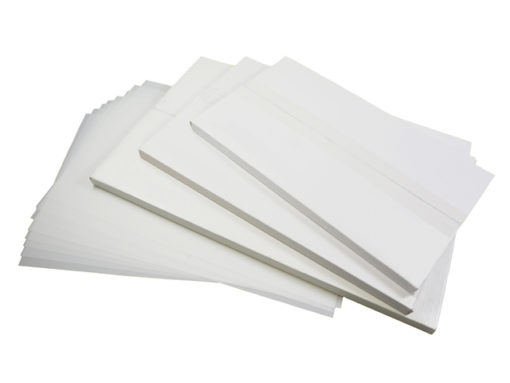 The most common paper type is laser printer paper. It is designed to be used in office environments and promising for daily printing of memos, invoices, and some other standard workplace documents. These laser papers are available in a matte finish for speeding up drying times and preventing smudges.
• Inkjet paper
Even though you can find inkjet paper in various options like glossy and smaller sizes, the main feature is how the paper can absorb ink. This paper is a thicker version than the laser one and works well with inkjet machines. This paper is designed to create crisp color-popping images. Some common uses are greeting and business cards, photography, and more.
• Cardstock
Trading and business cards and flyers are some of the commonly printed ones on cardstock paper. It is thick and durable, allowing it to pass without any risk of damage.
• Label and bond paper
Receipt printers and label markers use a special form of paper, known as a bond or thermal roll. These papers have a thicker and textile-like feel and are used for various tasks from art to business. The name comes from the ways images get printed on paper in these devices.
• Photo paper
TPaperare two types of photo papers – glossy and matte. Glossy is the common one and is mostly used as photo paper. But, matte can prove to be helpful in some cases. These two options are designed for printing the highest images possible with the help of an inkjet printer.
Apart from these options, we have been working on multipurpose and copy paper as another option for you to venture into.
Challenges to Indian paper industries' growth
When it comes to the Indian paper industry, is one of the oldest industries not just in India, but on a global font. However, with the addition of digitalization, the Indian paper industry is coming across some major challenges to address lately and right on time.
• The first challenge is always the consolidation of the industry because of high-end globalization. Most firms believe it to be more cost-effective to procure a plant than to build a new one.
• The second challenge faced is the computerization of the paper industry. People are looking forward to this section to help the industry meet specified needs.
• Another challenge will be the waste paper collection. It helps in making the operation more economical.

Join us as we discuss these points, along with multiple other aspects like condition-based maintenance and quality control, to name a few!
Pros And Cons Of The Printing Paper Industry
The Indian printing paper industry, much like any other sector, has it's ver of pros and cons involved. We, at Shree Varudi, would like to discuss these points to help you understand our work module better.
Pros of the printing paper industry
• The printing market is highly benefitted from the overall increase in business activity and expansion of business communication and transactional documents.
• This printing paper industry is thriving as an emerging platform driven by urban population expansion, increased disposable income, and print technology advancements.
Cons of the printing paper industry
• Printing paper industry is still working on outdated equipment and technology
• There remains an imbalance between the import-export goods
• There is a shortage of raw materials used for producing papers
• It calls for lower management level
The Reasons You Should Try Us
What are the reasons to choose us at Shree Varudi as your top-notch paper mill? We are here to share the points with you.
• We never compromise on the quality of our printing papers
• Our printing papers are eco-friendly
• We deliver all your needs on time
Next time you are eyeing the best printing papers, we have mentioned our official number to give our team at Shree Varudi a call!
---
Article Published : 18-11-2022
---
For more information:
Contact us : +91 94848 22222
Email us : sales@shreevarudi.com